About Us
Panda is a Chinese takeaway in Bristol. Why don't you try our Roast Duck with Mixed Vegetables or Thai Beef Curry?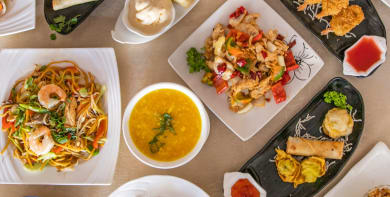 Reviews
750 reviews
lauren
"Tasty...good portions On time Average price Wish driver followed instructions for delivery but he did adhere to distancing rules"
29/05/2020
Jo
"Tasty and hot as always. Good value."
29/05/2020
Paul
"Great food and friendly delivery."
25/05/2020
Chloe
"Very nice food would deffo buy from again fast delivery"
24/05/2020
Menu
Chicken with Chilli Peppercorn & Salt
£5.90
Crispy Wonton
Served with sweet & sour sauce
£4.50
Deep Fried Crab Claws (4)
£5.10
King Prawns with Chilli Peppercorn & Salt
£6.90
Mini Duck Spring Rolls (3)
£3.00
Mini Vegetarian Spring Rolls (5)
£2.80
Sesame Prawn on Toast (6)
£5.80
Spare Ribs with Chilli Peppercorn & Salt
£6.00
Spare Ribs with Thai Sauce
£6.00
Special Mixed Hors D'oeuvres (Serves 2 Persons)
Mini crispy spring rolls, crispy seaweed, curry pastry & barbecued spare ribs
£7.40
Squid with Chilli Peppercorn & Salt
£6.10
Thai Crispy Wonton
Served with Thai sweet chilli sauce
£4.50
Chicken with Black Pepper
£6.00
King Prawns with Black Pepper
£7.00
Roast Pork with Black Pepper
£6.00
Roast Duck with Black Pepper
£7.10
King Prawns with Peking Sauce
£7.00
Chicken with Peking Sauce
£6.00
Roast Duck with Peking Sauce
£7.20
Roast Pork with Peking Sauce
£6.00
Vegetables with Peking Sauce
£5.60
Thai King Prawn & Chicken Curry Green
£7.50
Thai King Prawn & Chicken Curry Red
£7.50
Thai King Prawn Curry Green
£7.60
Thai King Prawn Curry Red
£7.60
Thai Mixed Vegetable Curry Green
£6.40
Thai Mixed Vegetable Curry Red
£6.40
Thai Special Curry Green
King prawns, chicken, beef & pork
£7.60
Thai Special Curry Red
King prawns, chicken, beef & pork
£7.60
Thai Chicken & Beef Curry Green
£6.90
Thai Chicken & Beef Curry Red
£6.90
Szechuan Beef with Chilli Sauce
£6.00
Szechuan Chicken with Chilli Sauce
£6.00
Szechuan King Prawns with Chilli Sauce
£7.00
Szechuan Mixed Vegetables with Chilli Sauce
£5.50
Szechuan Roast Duck with Chilli Sauce
£7.10
Szechuan Roast Pork with Chilli Sauce
£6.00
Szechuan Squid with Chilli Sauce
£6.00
Vegetables with Green Pepper & Black Bean Sauce
£5.50
Roast Pork with Green Pepper & Black Bean Sauce
£6.00
Roast Duck with Green Pepper & Black Bean Sauce
£7.10
Squid with Green Pepper & Black Bean Sauce
£6.00
Chicken with Green Pepper & Black Bean Sauce
£6.00
Beef with Green Pepper & Black Bean Sauce
£6.00
King Prawns with Green Pepper & Black Bean Sauce
£7.00
King Prawns with Mongolian Sauce
£7.00
Beef with Mongolian Sauce
£6.00
Chicken with Mongolian Sauce
£6.00
Squid with Mongolian Sauce
£6.00
Roast Duck with Mongolian Sauce
£7.10
Roast Pork with Mongolian Sauce
£6.00
Vegetables with Mongolian Sauce
£5.50
House Special Egg Foo Yung
£6.70
Mushroom & Sweetcorn Egg Foo Yung
£5.50
Crab Meat & Sweetcorn Soup
£3.80
Set Meal A For 1 Person
Sweet & sour chicken balls (5)
Beef with green pepper in black bean sauce
Egg fried rice
Prawn crackers
£10.50
Set Meal B1 For 2 Persons
Chicken & sweetcorn soup
Fried chicken with mushrooms
Sweet & sour pork Cantonese style
Yeung chow fried rice
Prawn crackers
£21.50
Set Meal B2 For 2 Persons
Barbecued spare ribs
Sweet & sour pork Cantonese style
Chicken with honey & black pepper sauce
Beef with Peking sauce
Yeung chow fried rice
Prawn crackers
£24.50
Set Meal C For 3 Persons
Barbecued spare ribs
Chicken & sweetcorn soup
Shredded chilli beef
Chicken with satay sauce
Roast pork with Mongolian sauce
Yeung chow fried rice
Prawn crackers
£43.50
Set Meal D For 4 Persons
Special mixed hors d`oeuvres
Crispy aromatic duck
Beef with Peking sauce
Roast pork with honey & black pepper sauce
King prawns in Gan Shei sauce
Chicken with lemon sauce
Stir fried bean curd with mixed vegetables in oyster sauce
Yeung chow fried rice
Prawn crackers
£70.00
Roast Duck Cantonese Style with Soy Sauce
£7.10
Roast Duck with Lemon Sauce
£7.10
Roast Duck with Mixed Vegetables
In oyster sauce
£7.10
Roast Duck with Mushrooms
£7.10
Roast Duck with Orange Sauce
£7.10
Roast Duck with Pickled Ginger & Pineapple
£7.10
Roast Duck with Plum Sauce
£7.10
Stir Fried Chicken with Bamboo Shoots
With water chestnuts
£5.80
Stir Fried Chicken with Cashew Nuts
£6.00
Stir Fried Chicken with Cashew Nuts in Yellow
Bean sauce
£6.00
Stir Fried Chicken with Mixed Vegetables
In oyster sauce
£5.80
Stir Fried Chicken with Mushrooms
£5.80
Grilled Chicken with Ginger & Garlic
In wine sauce
£6.00
Chicken with Fresh Tomatoes
£5.80
Chicken with Bean Sprouts
£5.80
Chicken with Pickled Ginger & Pineapple
£5.80
Stir Fried Beef with Bamboo Shoots
With water chestnuts
£6.00
Stir Fried Beef with Cashew Nuts
£6.00
Stir Fried Beef with Cashew Nuts in Yellow
Bean sauce
£6.00
Stir Fried Beef with Mixed Vegetables
In oyster sauce
£6.00
Stir Fried Beef with Mushrooms
£6.00
Roast Pork Crispy Noodles
£6.20
Roast Duck Crispy Noodles
£7.10
House Special Crispy Noodles
King prawns, chicken, beef & pork with vegetables
£6.80
King Prawn Crispy Noodles
£6.80
Stir Fried Bean Curd with Vegetables
In oyster sauce
Vegetarian dish
£6.00
Szechuan Bean Curd
Vegetarian dish
£6.00
Bean Curd with Chilli Peppercorn & Salt
£6.00
Bean Curd with Satay Sauce
Vegetarian dish
£6.00
Chicken on Skewers with Satay Sauce (4)
£6.00
Chicken Wings in BBQ Sauce
£6.00
Chicken Wings in Chilli Peppercorn & Salt
£6.00
Chicken Wings in Thai Sauce
£6.00
King Prawns on Skewers with Satay Sauce (3)
£7.00
Half Rice & Half Chips with Curry Sauce
£5.00
Bamboo Shoots & Water Chestnuts
£4.40
Stir Fried Mushrooms with Black Pepper
£5.20
Singapore Chow Mein
Spicy
£6.00
Soft Noodles with Bean Sprouts
£4.30
Vegetarian Singapore Style
Spicy curry flavour
£6.00
Vermicelli Singapore Style
Spicy curry flavour
£6.10
Yeung Chow Chow Mein
Shrimps & pork
£5.90
House Special Chow Mein
King prawns, chicken, beef & pork
£6.60
King Prawns with Bean Sprouts
£7.00
King Prawns with Fresh Tomatoes
£7.00
King Prawns with Pineapple
£7.00
King Prawns with Sweetcorn
£7.00
Stir Fried King Prawns with Bamboo Shoots
With water chestnuts
£7.00
Stir Fried King Prawns with Cashew Nuts
£7.00
Stir Fried King Prawns with Cashew Nuts in Yellow
Bean sauce
£7.20
Stir Fried King Prawns with Mixed Vegetables
In oyster sauce
£7.00
Stir Fried King Prawns with Mushrooms
£7.00
Squid with Honey & Black Pepper Sauce
£6.00
Roast Duck with Honey & Black Pepper Sauce
£7.10
Roast Pork with Honey & Black Pepper Sauce
£6.00
Vegetables with Honey & Black Pepper Sauce
£5.80
Mushrooms with Honey & Black Pepper Sauce
£5.80
King Prawns with Honey & Black Pepper Sauce
£7.00
Beef with Honey & Black Pepper Sauce
£6.00
Chicken with Honey & Black Pepper Sauce
£6.00
Chicken with Gan Shei Sauce
£6.00
King Prawns with Gan Shei Sauce
£7.00
Vegetables with Gan Shei Sauce
£5.50
Roast Pork with Gan Shei Sauce
£6.00
Roast Duck with Gan Shei Sauce
£7.10
Squid with Gan Shei Sauce
£6.00
Singapore Fried Rice
Spicy curry flavour
£6.10
Roast Duck Fried Rice
Cantonese style
£7.40
Yeung Chow Fried Rice
Pork & shrimps
£6.10
Thai Special Fried Rice
Chicken & pineapple
£6.10
House Special Fried Rice
King prawns, chicken, beef & pork
£6.60
Fried Rice with Chinese Mushrooms
£5.70
Fried Rice with Mushrooms & Sweetcorn
£5.70
Chicken & Pineapple Fried Rice
£5.90
Chicken with Ginger & Spring Onion
£6.00
Beef with Ginger & Spring Onion
£6.00
King Prawns with Ginger & Spring Onion
£7.00
Roast Duck with Ginger & Spring Onion
£7.10
Roast Pork with Ginger & Spring Onion
£6.00
Squid with Ginger & Spring Onion
£6.00
Roast Pork with Satay Sauce
£6.00
Roast Duck with Satay Sauce
£7.10
King Prawns with Satay Sauce
£7.00
Mixed Vegetables with Satay Sauce
£5.50
Sweet & Sour Chicken Balls (10)
£6.00
Sweet & Sour Chicken Cantonese Style
£6.00
Sweet & Sour Duck Cantonese Style
£7.10
Sweet & Sour King Prawn Balls (8)
£7.00
Sweet & Sour King Prawns Cantonese Style
£7.00
Sweet & Sour Mixed Vegetables
£5.50
Sweet & Sour Pork Cantonese Style
£6.00
Crispy Aromatic Duck Half
Served with fresh cucumber, spring onion, hoisin sauce & pancakes
£16.50
Crispy Aromatic Duck Quarter
Served with fresh cucumber, spring onion, hoisin sauce & pancakes
£9.30
Crispy Aromatic Duck Whole
Served with fresh cucumber, spring onion, hoisin sauce & pancakes
£30.50
Crispy Aromatic Lamb
Served with fresh cucumber, spring onion, hoisin sauce & pancakes
£9.00
House Special Curry
King prawns, chicken, beef & pork
£7.50
King Prawn & Chicken Curry
£7.10
Contact Us
Find Us
135 Church Lane, Bristol, BS59JR
We deliver to
BS1, BS15, BS16, BS2, BS3, BS4, BS5, BS6, BS7, BS8